Phone Number: +39 0556815230 - Email: info@tuscanfeelingresrl.com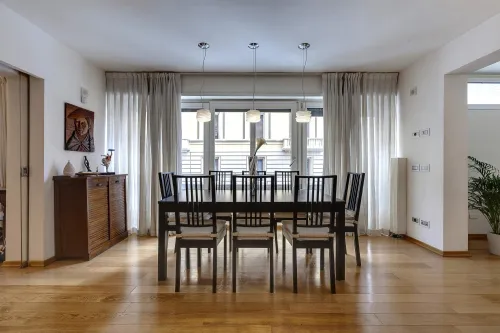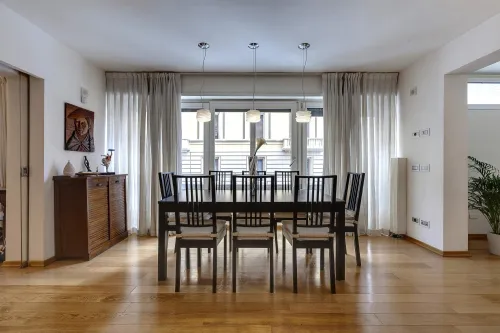 description
Elegant and modern apartment, in a good position to reach any point of the city: both the center and the avenues that surround it and that connect to the surrounding countryside.
170 sqm - 1 floor without lift - for 5 people
This elegant apartment is located in a residential area just outside the historic center of Florence, in the close vicinity of Piazza della Libertà. The elegant buildings built at the beginning of the last century surround the wide ring roads that characterize this area of ​​the city. From here it is easy to reach the Fortezza da Basso, a connection point between many parts of the city: the center with the central station on one side, Firenze Nord on the opposite side, Porta al Prato which connects to the south and Piazza della Libertà in the direction of the hill of Fiesole.
The sober and elegant apartment is located in a modern 5-storey building, dating back to the 1960s, with several condominiums. The main entrance is from a side door, which is the entrance to a studio on the ground floor and to the apartment. The property was renovated in the early 2000s, and was equipped with all modern needs, an avant-garde renovation for the period.
An independent entrance with internal stairs leads to the first floor where you enter a large open space living room with dining area, living area and a kitchen closed by windows. The kitchen is complete with 4 induction burners, oven, fridge, freezer, dishwasher, microwave. On the left there is a double bedroom with walk-in closet, and a particular private bathroom with in-ground tub and separate shower. Also from the living room you can connect to a single bedroom, a twin bedroom, a bathroom with shower, and a laundry / storage room.
The apartment is equipped with air conditioning, WIFI Internet, TV, security door.
Central heating
Monthly charges Euro 300.00 per month (including heating and hot water)
The apartment is currently rented until May 31, 2025 ensuring a monthly income